These resources accompany my talks at the 2013 ATLE Convergence conference in Edmonton — The Surface of Scratch and Hastening The End of Civilization As We Know It.
Scratch Resources
Scratch Mods
Snap! (formerly "Build Your Own Blocks")
Snap!, an advanced variation of Scratch (which works on the iPad, by the way)
See the Beauty and Joy of Computing, a computer science curriculum developed at Berkely, using Snap!
Enchanting
Enchanting is a Scratch mod for programming

LEGO

Mindstorms

NXT

robots.
Be sure to look at the How do I use it? section, to see the Enchanting Cards, videos, or try out the Monash University BlockBooks Series to learn to use it.
In the Real World
You can have even more fun with a MaKey MaKey.
Scratch 1.4 works with the PicoBoard, and LEGO WeDo Robots.
Enchanting, of course, works with LEGO Mindstorms NXT robots, and, for power users, it can also talk to Scratch (v1.4) programs!
Get Your Feet Wet
With Scratch
Make an interactive Christmas card following the hour of code instructions (an initiative started by code.org).
Start a new Scratch project and follow the tips.
Find some existing Scratch projects (like these) and click on 'see inside'. (If you like, modify the code, or create a remix of it!)
Especially if you are using an older version of Scratch, do try the Scratch Cards.
Search the site for different things of interest, and check out the fora.
Do note that most of the documentation for Scratch is for version 1.4, not the new 2.0 version.
With Enchanting
Please note that not all programs work on all robots. (You can hardly tell a driving robot to move its legs, or ask a robot without a colour sensor what colour it sees!) Also, many that do need to be adapted or reconfigured. For instance, if you have an ultrasonic sensor on port 4, and it expects one on port 1, you need to change where the program thinks the sensor is plugged in, or you need to change where the sensor is actually plugged in on the physical robot, so that the two match.
Enchanting Cards are a great way to get started. They have a simple program and indicate what it'll do. Try them out on your robot!
Enchanting includes several sample programs. Choose File -> Open and click on "Examples" to try them out.
Try out this step-by-step interactive book with videos on Enchanting from Monash University in Australia. [Note that the iBook takes a long time to download.]
These are several video tutorials, some for older versions, on the Enchanting site.
(You could also try to modify existing Scratch projects and try to run them on the robots).
More Robotics Resources
Please see my previous article, Robotics Resources . Note that "local" means near Cardston (or in the extended Lethbridge area).
Alberta-specific resources
Even More Resources
More Things To Mention
Scratch is used in Universities! For example, they use it at the University of Lethbridge, the University of Alberta, Harvard (Scratch for Budding Computer Scientists), Berkely (Beauty and Joy of Computing), and elsewhere.
Some universities are accepting a high school computer science course as a science prerequisite (on par with biology, chemistry, or physics), and I believe some are thinking of accepting knowledge of a computer programming as knowledge of a second language.
Here are resources for people looking to teach robotics, especially those who came to my presentation at the SWATCA teacher's convention on Hands On Robotics.
Here is a PDF version of my slides; note that is lacks all audio and video clips.
Next Actions
Scratch
Try out Scratch. (Happy Scratch Day in Canada today).
Also take a look at ScratchEd, a site for people teaching children to use Scratch.
If you'd like to try something more advanced, look at Build Your Own Blocks. (You might also like these interactive books on BYOB-based programming languages).
Mailing List
Sign up for the Robotics In Education mailing list.
SABRE

Games

Come to the 2013 SABRE Games, next Thursday (Feb 28, 2013). (Come to watch; or bring some young roboticists to participate!)
Make Magic
If you have a LEGO Mindstorms NXT set, try out Enchanting.
Check It Out
There are some great books in the Jim and Mary Kearl Library of Cardston that you can sign out easily from your local Chinook Arch library (and ought to be able to get via inter-library loan from any public library in Alberta, or perhaps Canada).
[There are a great many other excellent books on robotics; check out an online bookstore near you.]
Listen
Listen to some great podcasts.
Watch
Here are some interesting videos.
Keep In Touch
Here are my contact details.
You can also follow me on Twitter — @ClintonWB.
I also run a mailing list called SABRE Announcements. You can sign up on the left.
Additional Resources
Websites
LUMACS

– outreach program at the U of L that does robotics.
NXTP

rograms has fabulous building instructions for all three

NXT

kits.
Stem Robotics 101 "is both a turn-key curriculum for novice Robotics teachers and a collaboration tool for veteran Robotics teachers."
LEGO

Engineering has a number of robotics-related activities, and it run by Tufts University Center for Engineering Education and Outreach.
Competitions and Events
With other groups, we've run Robofest locally for several years.
FIRST

Alberta run events like the

FIRST

LEGO

League (

FLL

), Jr.

FLL

,

FIRST

Tech Challenge and

FIRST

Robotics Competition — with an event for every age range.
(There are lots and lots of other events, and it is easy to host your own).
Presentation
Radical Idea
Papers
PD Courses
2Learn.ca has also offered courses on robotics.
Where To Buy
Retail kits can be purchased from many places, such as RobotShop.ca, Amazon, Target, Toys R Us, and from

LEGO

directly.
Parts are best purchased at BrickLink or eBay.
If you are looking for interesting sensors, check out
Other Interesting Technologies
Just a short list — as there are so many!
I'm pleased to announce that Enchanting v0.2.1 is out!
Why not start out the new year by trying out a new way to program your LEGO Mindstorms NXT robot?
Here's a video showing what it does.
[If you'd rather, watch this shorter trailer video instead.]
Enchanting is free (as in lunch, and in speech) and available for Windows XP+ and Mac OS X 10.4+. (We would love help getting the experimental Linux and Raspberry Pi versions ready for use.)
It combines the simplicity and friendliness of programming in Scratch, with the advanced capabilities of leJOS and BYOB/Snap.
Please see the Enchanting website for information on getting started with Enchanting — we now have Enchanting Cards [3.4 MB PDF] and there is an interactive eBook on programming in Enchanting 0.0.9.1 .
Here are the scripts demonstrated in the video:
Introducing Enchanting - Sample Programs.zip [0MB]
and here are screenshots of those scripts:
Drive Around A Square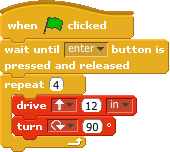 Follow That Line (With Eyes)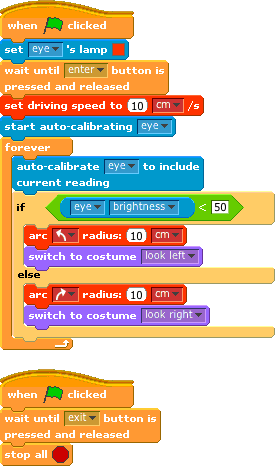 The Play:
| | |
| --- | --- |
| The Big Bad Wolf | The Little Pig |
| | |
Drive Around An Arbitrary Polygon
The Sumo Bots:
The two robots ran almost identical code, shown in Enchanting card #12 , except that I added code to turn on the lights to show what behaviour they were executing (which I forgot to save!), and I made one wander in the opposite direction so that the fight wouldn't take all day!