I've made a 45-minute-long tutorial video showing how to program a MINDSTORMS NXT Robot in a basic behaviour-based way — a great way to start with a simple robot program and work up to a complex-yet-still-manageable one. The video shows the concepts behind behaviour-based programming, and, in a step-by-step fashion, how to program the robot to do this in NXT-G, what the robot does, and how to debug the code to make the robot exhibit the desired behaviour.
Here are a couple of diagrams from the video: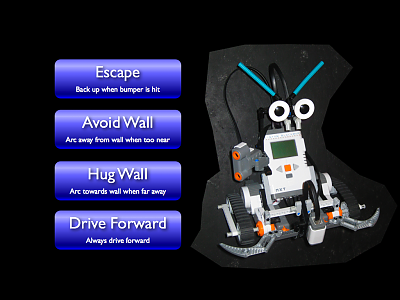 We will indue Exo-Scout (the robot) with behaviours to drive forward, hug the wall, avoid the wall, and to escape when he crashes into something. It sounds contradictory, but it all works out.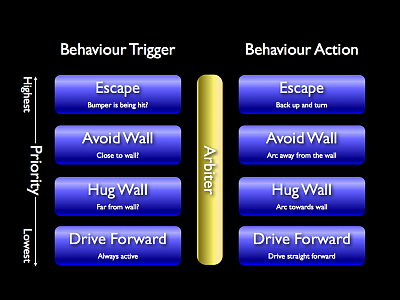 Conceptually, the behaviours are organized into triggers, actions, and something called an arbiter. It sounds scary and looks daunting, but the video explains it all so you can use it in your own robots.
Download
Here are the following choices for downloading the video. Depending upon your web browser, you may be able to click on an option and stream it, or you may want to right-click on the file and save it.
(If you aren't sure which video format to choose, you probably want to go with the Quicktime video.)
The NXT-G source code demonstrated in the video can be downloaded here. Note that you'll need the NXT-G 2.0 software to use them.
Share and Remix

Behaviour-Based Wall Follower in NXT-G by Clinton Blackmore is licensed under a Creative Commons Attribution-Noncommercial-Share Alike 2.5 Canada License.
Leave Some Feedback
I'd love to know what you think. I believe the video explains some powerful principles that will help breath life into robots! Feel free to add a comment or send me an email.
Article History
2010-04-06 — Reworked a lot of the text, added pictures, added the CC license to the videos, and encoded and uploaded videos in ogg theora format.
2010-03-15 — I have placed the work under a creative commons license, granting you rights to redistribute, re-mix, translate, and adjust the work, so long as you give me credit for originally creating the work. (See above for details.)
2010-03-05 — Added a lower-quality version of the video, and added a .zip file containing the source files I worked on.
Comment