I have got Enchanting exporting LeJOS code that will actually compile and run on your NXT. I have only tested it enough to see that it works, and I know there are bugs remaining to be found.
If you'd like to try it, and have LeJOS installed and set up, download it here. (36 MB)
New in this version:
exporting actually works.

if you want to mess with it, play with the two files starting with 'lejos' in the locale directory.

you should be able to double-click on Enchanting.exe/Enchanting.app to start the program, instead of dragging and dropping the image. (Not tested on Windows).
I have removed blocks that do not export, and created a few that translate nicely into LeJOS.
So, open up Enchanting, and create a script.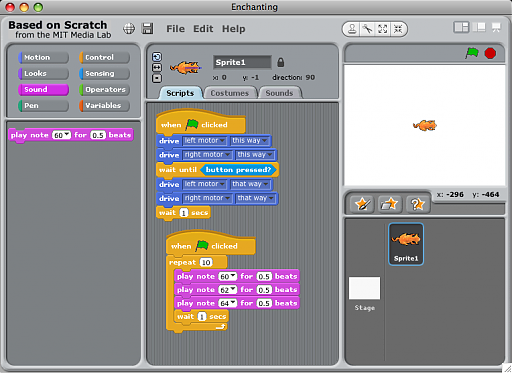 Right click on your sprite and choose "Export". You'll be prompted for a name. Please, use a name that can be used as a Java class — stick to letters and numbers (and maybe underscores) and you'll be fine.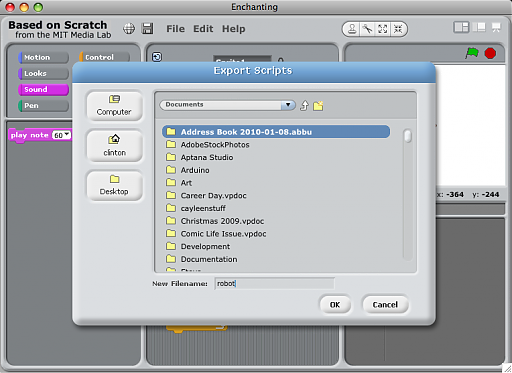 Then, go to your trusty terminal and compile and upload the program: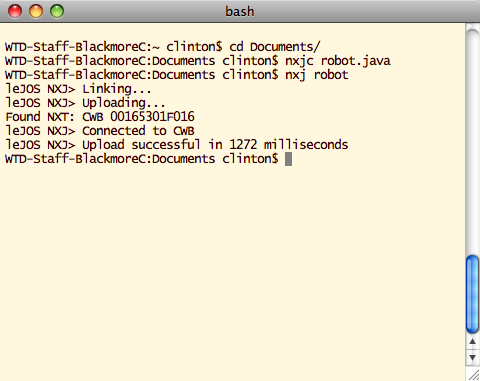 And run it on your NXT!
Please let me know how well it works for you and what fixes I need to make.
Addendum
I forgot to mention that variables and lists do not work at all, and that the following configuration is assumed:
Motors
Left is Motor C.
Right is Motor A.
'Claw' is Motor B.
Sensors
Touch Sensor is on port 1
Sound Sensor is on port 2
Light Sensor is on port 3
Ultrasonic Sensor is on port 4
If you don't have a given sensor attached, it should not be a problem.
Comment